What is Postcrossing?
It's a project that allows you to send postcards and receive postcards back from random people around the world. That's real postcards, not electronic! Learn more.
How does it work?
Request an address and a Postcard ID
Mail a postcard to that address
Receive a postcard from another postcrosser!
Register the Postcard ID you have received
Go to number 1 to receive more postcards!
Our happy members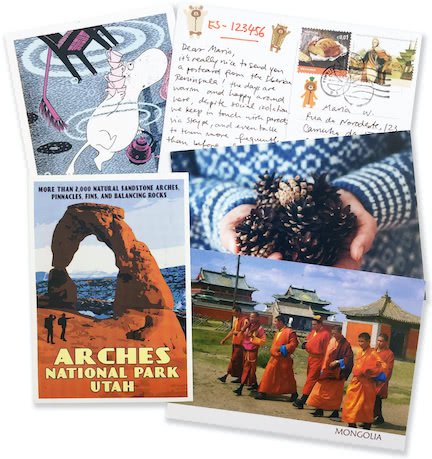 "I often don't feel well and have been unable to hike and ride my bike. Postcrossing is a simple hobby I can enjoy even when not well. I have "met" wonderful people from all over the world and have been pen pals with a few "posters" for over 6 years. It's wonderful to hear about others' families and hobbies, about what we have in common and to look up places they recommend I visit if I ever come to their country. People are warm and friendly."
Theresa, U.S.A.
More love
What is happening now?
Postcrossing in numbers
803,750 members

208 countries

62,529,220 postcards received

861 received in the last hour

372,493 postcards traveling

315,244,432,753 km traveled

7,866,361 laps around the world
Recent Postcards